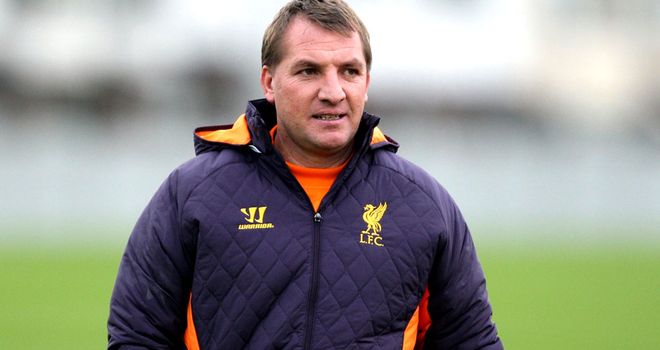 Brendan Rodgers has insisted that he is determined to lead Liverpool to victory over his former club Swansea City at the Liberty Stadium on Sunday.
The Premier League game in Wales will be the first time that Rodgers has returned to his previous employers since leaving them for Liverpool in June.
Rodgers says that he is looking forward to returning to the club where he enjoyed two successful seasons, but wants the Reds to register a win.
"It's certainly a fixture I was looking forward to," he said. "It's a beautiful part of the world, a brilliant club and I had two memorable years there.
"It was a wonderful experience and I have great memories from there, both professionally and personally.
"I'm really looking forward to going back and seeing many friends there, but ultimately looking to get the result. That's what we'll be there for."
However, Rodgers admits that winning at Swansea will be tough for Liverpool.
"The Liberty Stadium is a difficult place to go, but we're going into it with a real strong mindset," he said.
"We feel we're getting that momentum together and we're looking to continue with our run.
"We had a terrific result in our last league outing. We go into the game with big confidence. We know it will be difficult but we'll be looking to get a result."
Rodgers is confident there will be no animosity between striker Luis Suarez and Swansea defender Ashley Williams this weekend after acting as mediator to diffuse any potential difficulties.
The Swans defender was heavily critical of Suarez in an extract from his Premier League diary recounting last season, their first in the Premier League, published this week.
Williams was quoted as saying the Uruguay international was "streets ahead of any player I've truly disliked" and he wanted to "knock him out" for the player's diving antics.
Rodgers was taken aback when he read those comments and has spoken to Williams, who in turn has talked to Suarez, in an attempt to prevent the situation escalating ahead of Sunday's match.
"I have spoken to Ash and Ash has spoken with Luis so there is no issue there," said Rodgers, who along with Joe Allen returns to the club they left in June.
"When I saw it I was surprised because in my time there because Ash, knowing his character, is a real good man with good intelligence and maturity and a good footballer player.
"When I saw those comments I spoke to him and got the full explanation of how it has seemingly got out there and he was very quick to want to apologize for that.
"That is done. There is no problem there and I am sure they will shake hands on Sunday and get on with it."