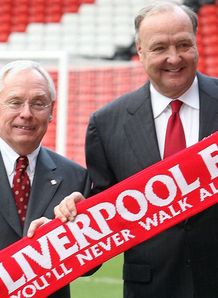 Ursula Errington from Sky NewsBusiness believes that the current plight surrounding Liverpool isn't as bad as it may appear.

Liverpool fans are fearing the worst following the announcement that despite a record turnover, the Anfield club's net debt has nearly doubled to £86million.

Auditors have warned George Gillett and Tom Hicks that failure to refinance a £350million loan - due on July 24 - "may cast significant doubt upon the group's ability to continue as a going concern".

However, speaking to Sky Sports News Errington pointed out that both Gillett and Hicks money tied up in a number of other companies in the US, and this could help refinance the loan repayment.

"I think we also need to be aware that Gillett and Hicks have other assets in the US that they could liquidate if necessary and use the money to appease the bankers in the UK and extend that debt financing," she explained.

"When you've got an awful lot of debt in this current economic climate, many of us recognise this is not the best of times to try and negotiate with the banks. But at the same time there is room for manoeuvre there and these guys are very able and adept. They have teams that will help them renegotiate with the banks and sort out these refinancing situations."

Sky Sports News also caught up with Professor Tom Cannon, who believes Liverpool owners Hicks and Gillett must sell off some of their other assets if they are to ease the club's financial woes.

Professor Cannon said: "Accountants like KPMG don't use the kind of language they've used here lightly. They've talked about material concerns, they've warned about their ability to continue under the present basis. I don't think I've ever heard accountants talk about a top football club in this way before.

"Fans should be very concerned. In some senses the fans have delivered what they've been expected to do. Turnover and trading profit have both gone up, but I'm afraid the cost of debt and management fees has produced a deficit which is frankly very worrying given the turnover. You're talking about a loss of almost £40million on a turnover of £200million. That is very worrying."

The Reds currently have a deficit which is roughly a third of the company in terms of trading, which is a massive difference from Premier League rivals Manchester United, whose figures are in the range of £300million and have a trading deficit of around £20million.

Professor Cannon, who is professor of strategic development at Liverpool University's school of management, cites the interest charges as the most worrying element of Liverpool's plight.

"They've got big debts but they're paying about £35million in interest," he explained. "We all know how interest rates have declined in the past year but Liverpool seem to be paying a rate that is over 10 per cent. This is at a rate where people are borrowing money at rates of around two and three per cent. It just goes to show how hard it has been to renegotiate the extension of their funding. In July they will be under pressure to renegotiate a much better deal.

"I think the pressure on Hicks and Gillett to bring in another investor is too hard to resist. Whether another investor will come in under the type of conditions Hicks and Gillett seem to be asking I don't know. It's more likely Hicks will sell some of his interest in the Texas Rangers or the Montreal Canadians. They desperately need new finance, not least to take the burden of this debt and the related interest. They can't seriously think in terms of another six-month extension this July; they need long term secure financing."

Liverpool are already counting the cost of their off-the-field troubles. This week they missed out on Gareth Barry, a player who last season publicly stated he wished to move to Anfield but has now instead gone to moneybags Manchester City. They have been heavily linked with a move for Portsmouth's £2million-rated defender Silvin Distin but Professor Cannon believes that unless finances improve, they will miss out on big-name players this summer.

He said: "We now understand why they didn't compete even more vigorously for Gareth Barry. They were talking of paying £18million for him last summer; the difference now is something that has been clearly shaped by these figures. I think Rafa Benitez is in a very powerful position; he has a lot to offer players who might want to come in, but he will clearly be operating under very strict trading conditions in terms of anybody he wants to sign.

"This is certainly going to hit Benitez's budget significantly. Most people around Merseyside thought he would sign Barry, which would have produced a phenomenal midfield with Gerrard and Mascherano. Unless they can sell Alonso or do more in the buying and selling then they're clearly going to be operating under straightened conditions."