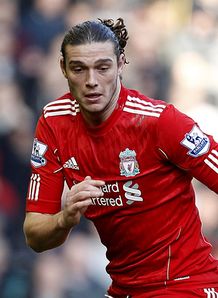 Liverpool's £35million striker, Andy Carroll, is set to make his European debut in Thursday's match against Braga.
The former Newcastle star has recovered from a long-standing tendon injury and made his first appearance in red as a substitute in Sunday's win over Manchester United.
Carroll played the last 16 minutes at Anfield to mark his return to action after an almost three-month rehabilitation process, which began prior to his record-breaking January transfer.
Liverpool now plan to gradually increase their new England international's workload, which is likely to include a substitute outing in the Europa League last-16 first-leg match against Braga at the Estadio AXA.
"It's been a long process rehabilitating him - about eight or nine weeks - but we are happy with the result," Liverpool's head of sports medicine and sports science, Dr Peter Brukner, told the club's official website.
"We've seen steady improvement over that time. He's much stronger in that tendon and in general as well.
"We still need to keep working with him and we want to build his training and playing load up to the level required.
"He'll play some more minutes against Braga and hopefully he'll be involved more and more with each game."
Brukner added: "He had a tear in the tendon just above the knee, which was a rare injury because it is more common to have that below the knee.
"We were really determined to build him up slowly and just get him a lot stronger to cope with the load."
Brukner has also been impressed by 22-year-old Carroll's determination to return to full fitness.
He said: "The physio and fitness guys have worked really hard with Andy and to his credit he's not shirked the issue."