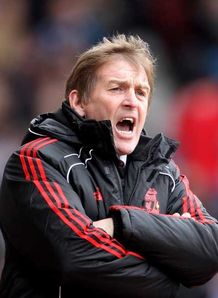 Liverpool manager Kenny Dalglish insists that he will be better prepared to face Manchester United this time around.
The Scot faced United just hours after returning to the Reds dugout as manager following Roy Hodgson's dismissal the day before an FA Cup third round tie at Old Trafford in January.
Despite the romantic return of the man the Kop faithful call 'the King,' it was not to be for Dalglish on that day as his team went down 1-0 to a Ryan Giggs penalty in the first minute and had skipper Steven Gerrard sent off.
However since that day Dalglish, who turned 60 on Friday, has turned things around in the Premier League and moved Liverpool away from a place in the bottom half to the top six.
The Reds legend had to cut short a holiday in the Persian Gulf to return to Anfield and did not have any time to ready his players, but admitted that his team is far more prepared for the league leaders upon their visit to Anfield on Sunday.
"I never had any time (ahead of their FA Cup meeting). I was in transit but the lads had been well prepared here," said the Scot.
"But obviously that went out the window a little bit in the first minute when they got a penalty and Steven got sent off.
"You can prepare as much as you want but you can't prepare for things like that."
With such a bitter rivalry between the two, and in light of Gerrard's dismissal last time round in a game that is notoriously feisty over the years, Dalglish was eager to remind his team that they must keep their heads.
"It's hard for us to talk about discipline when we got somebody sent off in the last game but I don't think it's difficult to be disciplined," Dalglish added.
"You have to compete and it's a fine line as to how you do that.
"If you do something stupid you deserve to be sent off. I don't think there is a problem with discipline from either team - certainly from us there is no problem.
"You've got to have controlled aggression, not just for this game but for any game.
"You can't go around punching and kicking and headbutting people and expect to stay on the pitch.
"It's got to be within the rules of the game. The lads know the rules but they also know we've got to compete."
He continued: "Every game's very important for this football club but Liverpool-Manchester United is a game that a lot of people look forward to.
"But you get the same rewards for it regarding points, although maybe a bit more credit and you might get a few more inches in the newspaper columns if you get a positive result.
"Every game is [against] a rival. Everybody that stands in front of you is an opponent.
"Everybody plays football to play at the highest level they possibly can and the games between Liverpool and Manchester United are what you term as the highest category of game you can get.
"I suppose anybody that's playing football would love to play in them."