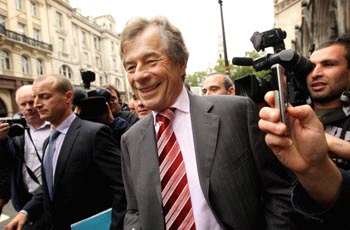 Departing Liverpool chairman Martin Broughton insists he will be leaving the club in good hands.
Broughton will hand over the reigns to New England Sports Ventures' Tom Werner next week, and he is confident Liverpool's new owners will take the club forward.
He told the club's official website: "They are really getting down to it in a very professional way.
"I have been impressed with that. It's the sort of thing I expected from them.
"They are taking their time, doing it carefully, thinking it through, not being rushed. They're the right people."
Broughton has had a rough ride at the helm but is pleased to have played his part at the club.
"I thought there would be a few more bidders at an earlier stage," he added.
"It took a little bit longer, and certainly in the end it turned out to be rather more complicated than I predicted.
"I think the low point was pretty early on, when we had a situation with unpopular owners, the manager [Rafael Benitez] going - so no manager - stories about Stevie [Gerrard] wanting to go, stories about Fernando [Torres] wanting to go.
"That looked a pretty uncomfortable position at the time.
"But the highlight is getting the deal done with the right people, no question; actually delivering what we promised - the right owners.
"I am very proud of it. It has been great to come in and deliver on a promise."
Broughton also paid tribute to the Liverpool fans, who have suffered more than most.
"This is a fantastic club with terrific supporters," he added.
"It's been an emotional time for them, it's been a difficult time - I've understood that - but they've kept the faith, and they need to keep the faith now.
"The team's going to come good from here."