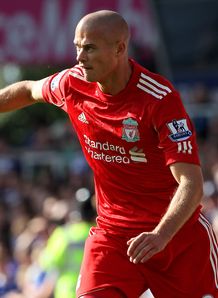 Liverpool defender Paul Konchesky has urged fans to get behind manager Roy Hodgson after a tricky start to his reign.
The Reds have struggled this season under the former Fulham boss and certain sections of fans have called for Hodgson's head even at this early stage of his tenure.
Left-back Konchesky, who followed Hodgson to Anfield from Craven Cottage, insists the experienced coach can succeed on Merseyside and believes he has the right formula on the pitch.
"I know right now the fans obviously want a different style of football, but I think his style will work here," said Konchesky in the Daily Express.
"The supporters need to get behind him a bit more.
"He wants to be at the top. He isn't happy about us being eighth and ninth. I knew coming to Liverpool that the expectations would be different to Fulham, but I didn't fully understand by how much until I got here.
"Every single person in Liverpool wants their team to be back in the top four. The pressure is high, but it's also good because you have to show people what you are about.
"The league is funny this season. It's not just Liverpool not winning matches. It gives us a chance of getting back up there, especially if we do well over Christmas when we'll have players coming back from injury."
Konchesky has also come in for criticism since his switch to Liverpool with certain quarters saying he is not good enough for the club.
"I've seen and heard that said, but people would have to tell me what a Liverpool player is to them," he added.
"At first my form struggled and I was injured, but lately I've got myself fit and have done all right. I want to do better but, in a way, I think it's easy for people to say things about me.
"I haven't been here before and I am one of the manager's signings.
"People have an opinion of me now. After a few months, if we finish fourth or fifth, would their opinion of me be different? I will get on with it, get over it and prove them all wrong."