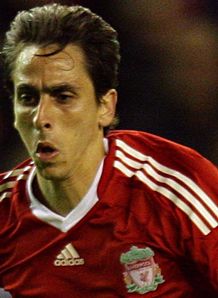 Yossi Benayoun's agent, Ronen Katsav, insists his client is happy at Liverpool despite reported interest from Manchester City.

The Israel international has been linked with a move to Eastlands this weekend in a number of British newspapers but Katsav has denied that there is any truth behind the speculation.

The 29-year-old has impressed this term, scoring three goals in 10 games in all competitions - with all of them coming against Burnley.

However, Reds manager Rafa Benitez left the former West Ham favourite on the bench for the biggest clash of the season against Chelsea last week, giving the impression that Benayoun still has a way to go before he is classed as one of Liverpool's main men.

"Naturally a player playing well at Liverpool will always have other teams interested in him," Katsav told the Israeli press.

"It is a great compliment that there is interest from high level teams across Europe but Yossi is very happy at Liverpool and only in the summer agreed a new four-year contract for four more seasons."