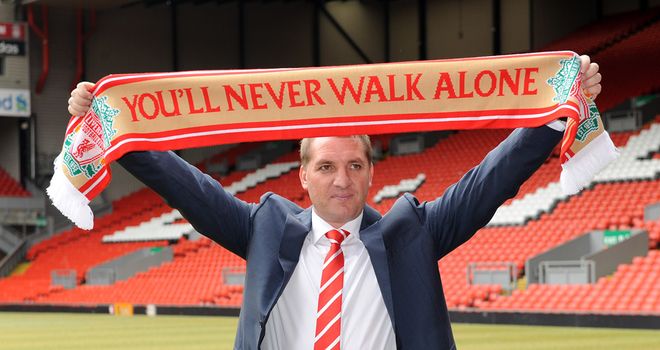 Brendan Rodgers says he is planning to use the Spanish tactics that have taken the world by storm in recent years as a blueprint for future success at Liverpool.
The 39-year-old manager won many admirers for the way he built on the foundations of the current Wigan boss Roberto Martinez at Swansea that had the club likened to the reigning world and European champions.
He was brought in to replace Kenny Dalglish as Liverpool boss after a poor season in which they finished in a disappointing eighth place.
And Rodgers has vowed to bring the good times back to Anfield with his brand of possession football.
"Any football team, especially when you play possession football, has to limit the opposition to few chances," he told talkSPORT.
"Last year we (Swansea) used to defend with the ball and people in this country don't seem to understand that, they think you defend without the ball.
"But it is all about penetration and that is what I will look to bring here. Possession is no good on its own, it has to be with penetration."
The mixed performances last season may have cost the Kop favourite his job but Rodgers was quick to defend the record of Dalglish in his second spell in charge of the club.
Rodgers believes he laid strong foundations for future success at the club and because of that he is does not need to raid the transfer market if he is to challenge for silverware in his first season in charge of the famous old club.
"If you look at Liverpool's record last season Kenny was very unlucky because there were so many games they dominated but just failed to hit the back of the net," he added.
"Defensively they were reasonably strong so it is a case of improving on what has been happening over the last couple of years and giving the players confidence to go and win games."