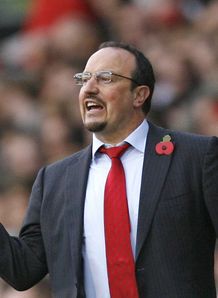 Rafa Benitez is refusing to look any further ahead than Liverpool's next game as he hopes his side experience a change in fortunes.

The Reds drew 2-2 with Birmingham at Anfield on Monday night to leave them 11 points adrift of Premier League leaders Chelsea.

Benitez's men had already been ruled out of the title race by some critics, but the Spaniard has always remained adamant that his side were contenders.

However, the former Valencia boss has now played down his team's dreams of league silverware, while also calling for realism as Liverpool aim to end a disappointing run of results.

He said: "We have to be realistic and think what our target is now. For me it is just the next game, the next point to see whether we can climb a little higher in the table.

"Then you never know what can happen. We did win six games in a row, if we did that again everything would be different.

"The main thing now is to get players fit, and see who we have available for the next game after the international break.

"We will then wait for some months to pass and see whether we can win some games in succession. That is all I am looking at now."

Benitez added: "People keep discussing our bad run, but previously we won six on the trot and we have beaten Manchester United.

"It is a question of keeping going. I would be really worried if we were not playing well and not winning. But I can see that we are beginning to play better, it is a question of luck now.

"Maybe people think that I am angry about all this. But when I see the players working so hard, trying to change our situation, there is nothing more to say to them, they are doing all they can.

"This is the only way to change our situation. To keep working hard and play well, and I believe we did play well against Birmingham."