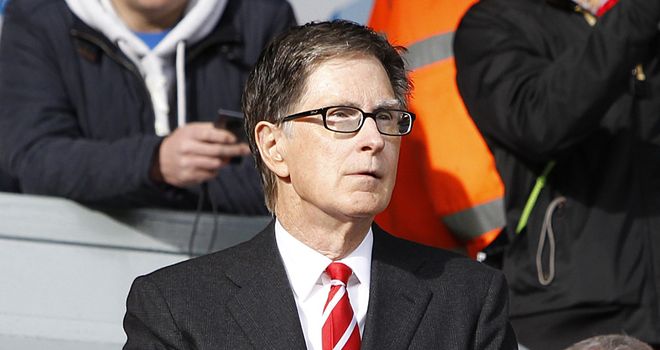 Liverpool's principal owner John Henry has warned fans it is a myth to think a new stadium will transform the club's financial fortunes.
A new stadium in Stanley Park has been an ongoing drama for the Reds with previous owners Tom Hicks and George Gillett committing significant sums to an abortive attempt to relocate the club.
Henry wants supporters to appreciate that a new-build could lead to increased ticket prices and that the best way to grow is through developing worldwide commercial revenue streams.
"A long-term myth has existed about the financial impact of a new stadium for Liverpool," the American wrote in an email to The Anfield Wrap website.
"A belief has grown that Liverpool FC must have a new stadium to compete with (Manchester) United, Arsenal and others.
"No-one has ever addressed whether or not a new stadium is rational.
"New stadiums that are publicly-financed make sense for clubs - I've never heard of a club turning down a publicly-financed stadium.
"But privately carrying new stadiums is an enormous challenge. Arsenal is centered in a very wealthy city with a metropolitan population of approximately 14 million people.
"They did a tremendous job of carrying it off on a number of levels but how many new football stadiums with more than 30,000 seats have been built in the UK over the past decade or so?
"New stadiums increase revenues primarily by raising ticket prices - especially premium seating."
One source of funding would be to agree a naming rights deal for a new stadium and Henry reiterated that this is something he would not rule out.
"We've been exploring a new stadium for the past 18 months," he added.
"At one point we made it clear that if a naming rights deal could be secured of sufficient size, we would make every effort to build a new facility.
"Liverpool FC has an advantage in being a global club and a naming rights deal could make a new stadium a reality.
"It is something we are working on. There has been interest."
Henry accepts that the alternative - increasing capacity at Anfield - remains fraught with difficulty.
"Going in the other direction, many football clubs have successfully enlarged their seating capacity," he added.
"LFC has had plans to expand the main stand at Anfield but this avenue has been very difficult for the club over the past couple of decades.
"There are homes behind the main stand. Expansion of the main stand would have to be a priority for the city, community and immediate neighbourhood in order for that to occur.
"This issue is vital to the neighbourhood's future but we cannot and will not act unilaterally.
"While a new stadium or an expansion of Anfield is beneficial over the long-term for the club, the financial impact of adding seats and amenities should be put into perspective.
"That's why I say that it is a myth that stadium issues are going to magically transform LFC's fortunes.
"Building new or refurbishing Anfield is going to lead to an increase from £40million of match-day revenue to perhaps £60-70m if you don't factor in debt service.
"That would certainly help but it's just one component of LFC long-term fortunes.
"Our future is based not on a stadium issue but on building a strong football club that can compete with anyone in Europe.
"This will be principally driven financially by our commercial strengths globally."