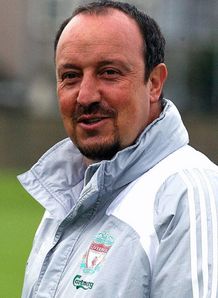 Liverpool manager Rafa Benitez is ready to offer the younger members of his squad the opportunity to impress against Crewe in the Carling Cup on Tuesday.

Benitez is expected to name the likes of left-back Emiliano Insua, midfielder Damien Plessis and forward Daniel Pacheco in his plans as he looks to rest a number of his first-team stars when the Railwaymen arrive at Anfield.

Insua and Plessis enjoyed games in Liverpool's domestic first-team towards the end of last season as Benitez concentrated on the UEFA Champions League, and he is again willing to field fringe players.

But the Spaniard is well aware that he must name a team which will avoid an upset against Liverpool's League One opponents.

"It's an important competition for us but it's also one which gives us the chance to use some different players," said Benitez.

"We have to be careful though. We want to win the game and go on to win the tournament so while we can use some of our youngsters, we need to make sure we get the team right for winning.

"It's a good opportunity for the youngsters who are selected. We have four or five of them training with the first team every day so they know how we work, but to be involved for a match gives them a chance to show us what they can do.

"They played well in pre-season and also in some games last year, so we know they have the quality to have a future here."

One player definitely in line to make his Anfield debut is Brazilian goalkeeper Diego Cavalieri, who arrived from Palmeiras in the summer, with first choice Jose Reina set to be rested.

"Normally, Diego will play in the Carling Cup - he is a fantastic professional who is learning all the time about English football," Benitez told Liverpool's official website.

"It's a different style to what he was used to in Brazil but I think he showed in pre-season that he can do everything well. He's a good goalkeeper and can challenge Reina."