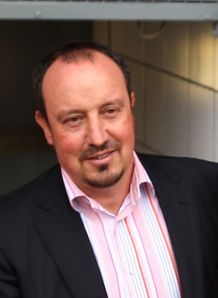 Liverpool boss Rafael Benitez insists he would rather focus on the team than his war of words with Chelsea chief Jose Mourinho.

The pair will go head-to-head on Sunday in the season's first major showdown at Anfield.

The charismatic Mourinho could not wait for the season to start before he declared the heat was on Benitez to deliver this campaign following his £40million summer spending spree.

The Liverpool boss could not resist responding to his Blues counterpart, saying: "I thought Jose had said he wouldn't be talking about other clubs this season. Maybe he's already forgotten that.

"You only have to look at who are the clubs who have spent most over the last five seasons and there are two, Chelsea and Manchester United, and they have won most of the trophies.

"If you analyse who finished top of the table last season, who have spent more money in those years, it is clear and simple there are two teams ahead of the others in terms of money, spending and also titles won.

"And I always say that (Chelsea owner Roman) Abramovich has done a really good job, that is the key."

Benitez insists he is under no more pressure now, after spending big over the summer on players such as Fernando Torres and Yossi Benayoun, than he was before as he prepares for Sunday's encounter.

"I do not feel more pressure because I have bought players, and I would rather it was not about me and Jose all the time, I would prefer it to be about (Steven) Gerrard, (Chelsea captain John) Terry and the other players, and I think we will be okay together this season," he continued.

"We are both professionals and we have our responsibilities. But it is better if we do not talk too much about each other.

"I really don't enjoy it and want to concentrate on my team, I do not like talking about other managers every day."

Benitez is expected to include captain Gerrard in the side despite suffering a hairline fracture to his big toe on his right foot during the midweek UEFA Champions League clash at Toulouse.