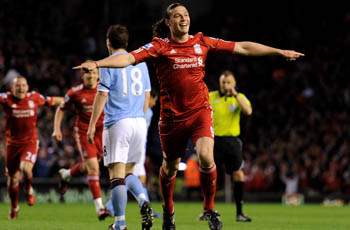 Andy Carroll is confident that Liverpool can finally break their winless streak at the Emirates by beating Arsenal.
The striker scored twice against Manchester City on Monday to get himself off the mark after his £35 million move to the Reds in January from Newcastle United.
Carroll hopes his new team-mates can repeat the success of his former side, who won at the Emirates earlier this season thanks to a goal from the England man.
He told the club's official website: "We need to work hard to close them down and make sure that we don't give them space or time on the ball because we know what a good side Arsenal are and what they can do if you allow them to do that.
"All the Newcastle lads played well that day. It was a great ball in from Joey Barton and it was something that we had practiced in training beforehand.
"He put it right where I wanted it and the 'keeper was in two minds whether to come and claim it or not. I got there first and put it into the back of the net.
"There's no reason why Liverpool can't win there and all the lads are confident that we can beat Arsenal."
The striker is not the only Liverpool player to win at the Emirates this season as Lucas Leiva also tasted victory when Brazil played Scotland in a friendly last month.