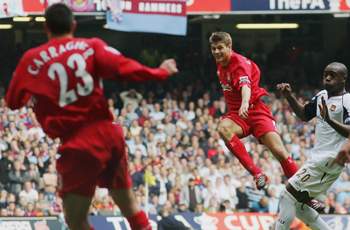 Captain Steven Gerrard has stated that Liverpool's main target next season will be to qualify for the Champions League but has warned that the club should not raise their expectations too high.
The Reds finished the season in encouraging fashion after Kenny Dalglish took the helm from Roy Hodgson and eventually finished sixth in the Premier League table despite a troublesome start to 2010-11.
England international Gerrard told the Liverpool FC official website that while he is keeping his feet on the ground, he believes that Dalglish's stewardship at Anfield, with a three-year contract now in place, bodes well for the club.
"I'd love nothing better than to lead the lads to some silverware next year but I don't want to raise expectation by saying that will definitely happen," he said.
"It would be stupid of me to raise expectations any more than they are already.
"At the beginning of every season at Liverpool expectations rise, and now that Kenny is staying and with a few signings I'm sure it'll go through the roof.
"Getting in the Champions League will be the main aim. I think it is for all the clubs in the
"For financial reasons it's so important but it's also the biggest competition for players individually at club level.
"Everyone wants to be involved in it, we've had some fantastic nights at Anfield over the years in the competition and we all want to see those nights return.
Gerrard feels that the lofty aim of qualifying for the Champions League is certainly not out of reach if the club continues in the manner that it finished last season and feels the Reds can compete with the best, but admitted that he would like to see the squad undergo further strengthening.
"We just need to continue what we've been doing during the last six months.
"Hopefully we'll add some more players to strengthen the squad and then we need to compete.
"We are good enough to beat anyone on our day, we just need to find the consistency to challenge for honours."
The 30-year-old skipper missed out on the end of last season after undergoing surgery on his groin following Liverpool's 3-1 defeat of Manchester United in March but he should be back to fitness in July, in time for the pre-season friendlies.
Gerrard added: "I've had it sorted with surgery and hopefully next year I'll be fit and available after a good rest, with a brand new groin and ready to push on under Kenny.
"I'm due to come back after 12 weeks, so it'll be around when the lads return on 4/5 July.
"Then I've got six weeks of pre-season to get match fit, so by the time the league starts I'm hoping to be in good shape."