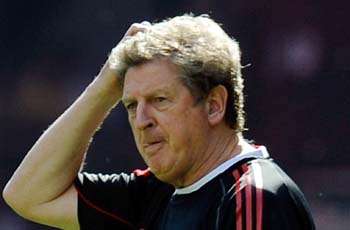 Liverpool manager Roy Hodgson wants to see an end to "the strange times" as the club awaits a takeover.
Owners George Gillett and Tom Hicks tried to sell up this summer but interested parties such as Kenny Huang failed to conclude a deal. With a debt of £351.4 million, the ex-Fulham supremo has had to operate with his hands tied behind his back in the transfer market while a fresh cash injection is awaited.
Speaking to the League Managers' Association's magazine 'The Manager', Hodgson bemoaned the current state of affairs.
He said: "The club is up for sale and nobody knows what direction it will take if and when new owners are found.
"A few years ago when the situation was far more stable, the money to buy new players was available.
"I hope the situation will change when the club is eventually sold and owners who are prepared to invest in the club come in.
"When that situation arises I'm pretty sure that it won't be difficult for us to start achieving things again but at the moment the task is really to hang on to the players we've got and make certain we don't have a situation where we have got a total rebuilding process."
Despite the prospect of falling into the hands of creditors the Royal Bank of Scotland in October, Hodgson insisted Liverpool's past achievements still make them competitive.
"The stature, traditions and ability of Liverpool to attract players certainly makes it an achievable task even though we are in strange times," the 63-year-old stated.
"You should never try and dampen people's enthusiasm and optimism.
"Furthermore every season we see teams not expected to win titles winning them.
"It doesn't always go to the favourite in any country.
"So we should never play down the Liverpool fans' incredible desire and passion to keep winning trophies - and the Barclays Premier League in particular - and keep their noses in front of Manchester United."