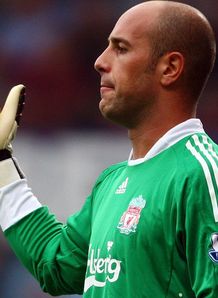 Jose Reina has warned Liverpool's rivals that they are prepared to fight tooth and nail to secure UEFA Champions League football next season.

The Reds have endured a miserable campaign so far and they face strong competition from Manchester City, Tottenham and Aston Villa for a top-four finish in what has been the worst season of Rafa Benitez's reign on Merseyside.

But the 18-time league champions have built up a head of steam since the Christmas period and are six games unbeaten after Saturday's scrappy 2-0 win over Bolton.

If their latest success - which puts them just one point off fourth-placed Spurs - was unconvincing, Reina has made no apologies for Liverpool's gritty attempt to salvage a seat in Europe's top table.

"We know that proper teams build from the back and base their success on good defending," the Reds shot-stopper said in the Daily Mail.

"Steven Gerrard said the other day that we are more difficult to beat now and that is how it should be.

"We are better defensively and we are showing that we have the right mentality in tough moments. It is important to keep a settled back line and you can see the understanding developing.

"You can talk about improving and this and that, but at the end of the day you have to win. It doesn't matter about how you play, it is all about winning.

"We cannot think any further ahead than Everton next week, because we are not in the same situation as last season when we were fighting for the title.

"At least we are gaining confidence from this run and that is why the result is all-important. That has to be the message.

"There will be more tough moments, but our pride is at stake and, if we stick together, we can come through it."