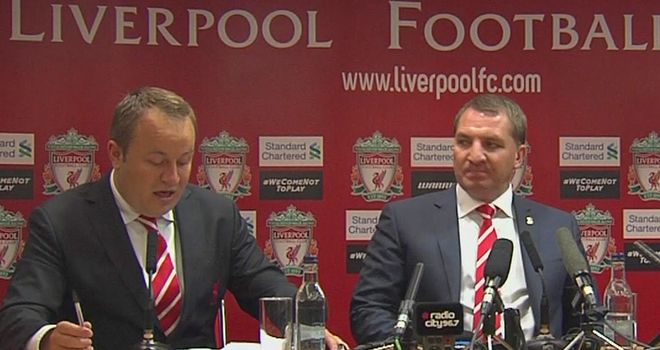 Liverpool have confirmed the appointment of Brendan Rodgers, with John W Henry calling for the new manager to be given time at the helm.
Rodgers leaves Swansea to take over at Anfield as the replacement to the sacked Kenny Dalglish following the club legend's departure in May.
The Northern Irishman has built a reputation for exciting attacking football during his time with the Swans as he guided them to promotion via the Championship play-offs before establishing the Liberty Stadium club in the top-flight against the odds.
He inherits a side battling to regain their place in the upper reaches of the Premier League table following last season's miserable eighth-place finish.
The 39-year-old was unveiled at Anfield on Friday morning after emerging as the leading candidate in Liverpool's appointment process, with the club having also spoken to Wigan boss Roberto Martinez.
Rodgers told the club's official website: "I'm blessed to be given this opportunity. I want to thank John Henry, Tom Werner and FSG for the opportunity to manage such a great club.
"I'm really excited and I can't wait to get started on this incredible project going forward.
"I promise to dedicate my life to fight for this club and defend the great principles of Liverpool Football Club on and off the field."
Principle owner Henry of Fenway Sports Group insisted that the new man at the helm needed to be given time to build for the future at Anfield.
"Fenway Sports Group is committed to building for the long-term. Brendan Rodgers' appointment today as manager of Liverpool Football Club is one of the most important steps we will take in building the kind of club on and off the pitch supporters can be excited about," Henry said.
"Brendan's comprehensive football philosophy is perfectly aligned with those at the club and those soon to join the club. He was the first choice unanimously among them and he had no hesitation at all in embracing exactly what we want to try to build at Liverpool.
"We do not expect miracles overnight nor should anyone else. But we firmly believe that the direction the club is heading in will lead to Premier League championships.
"We will embrace the unconventional, build the right way and together set a bold, exciting course for this historic club."