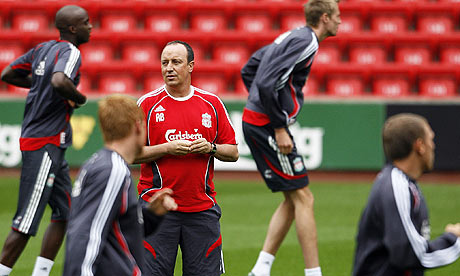 There is a bit of the politician in all football managers. Most relish issuing the media with manifestos full of worthy pledges about raising coaching standards, enhancing youth development and eliminating financial waste from transfer budgets.
Such promises sound good but a mixture of human weakness and the English game's free-market system makes honouring them tough. Rather like some government ministers, certain managers are addicted to spending as many millions as possible and may find overseas scouting missions more enjoyable than less glamorous, mud‑on‑boots assignments overseeing young academy prospects.
Aware that improving existing playing staffs through coaching is arduous and time-consuming and is not always successful, some of the men placed in charge of our leading clubs struggle to resist the temptation to bet the farm on high‑stakes transfer-market gambles. With trading permissible during the summer and winter transfer windows, some are able to operate in an almost Trotskyite spirit of permanent revolution but, too often, all this upheaval either proves detrimental to their aims or makes little discernible difference to performance.
Take Steve Bruce. Since arriving at struggling Sunderland less than two years ago he has signed 19 new players – four have subsequently departed – while off-loading a similar number. The changes are dramatic; their impact superficial. Once again Bruce's team is fighting for Premier League survival and he is already planning another "major close-season rebuild".
There is a simple, yet intriguing, way to break this cycle of despair. Scrap the January transfer window and leave managers to rely on coaching and motivational abilities for an entire campaign, without the option of buying a way out of trouble halfway through.
In early 2011 this would have left fans fascinated by Kenny Dalglish's endeavours to put Fernando Torres's attacking game back together again at Liverpool. Similarly, Gérard Houllier could have shown us his mettle by steering Aston Villa away from relegation waters without the £24m injection of Darren Bent's goals.
Not that shutting the January swap‑shop alone would be sufficient to create a significantly spicier, much more meritocratic league. Its removal must be allied to a system that punishes all recruitment errors. This should involve clubs being heavily fined – potentially millions – for moving a player on within two years of acquisition. If a new defender, for instance, disappointed and was transferred for £2m 12 months after arrival, 75% of that fee could automatically be directed to a football‑related charity.
In an added twist designed to reduce talent wastage and avoid leaving erstwhile stars whose faces no longer fitted rotting in the reserves, further fines might be imposed on occasions where recent signings aged over 21 featured in less than 80% of a team's fixtures when fit.
By forcing managers to think twice before importing new players this would represent a huge incentive to offer bright academy prospects first‑team chances. The Harry Redknapps and Rafael Benítezs of this world may not approve, but watching such wheeler‑dealers subdue their trading impulses would provide considerable, intensely psychological human drama.
If Tottenham discarding the £15m David Bentley was suddenly no longer financially viable, rebuilding a right-winger once regarded as David Beckham's natural heir would be the manager's only feasible option. A similarly reformed Benítez may even start to regard the days when he signed 77 players in six roller-coaster seasons at Liverpool as his mid-life crisis.
Just as eternally restless householders with bizarre compulsions to paint their sitting rooms new colours every six months could make better use of all that time and energy, managers might learn that improving existing players – sometimes beyond all measure – offers far greater satisfaction than simply replacing anyone regarded to have the merest flaw.
Meanwhile realization would begin to dawn that in terms of raw, unpolished ability there are minimal differences between most Premier League players.
Equally importantly, the new regulations would also help prevent players and their representatives from routinely trying to break already generous contracts by agitating for increasingly lucrative transfers.
What could be better than a system destined to upset agents, restrict greed, improve coaching, promote gifted youth, minimize panic buying and, above all, reveal the identities of those who can and cannot really manage a football team successfully?