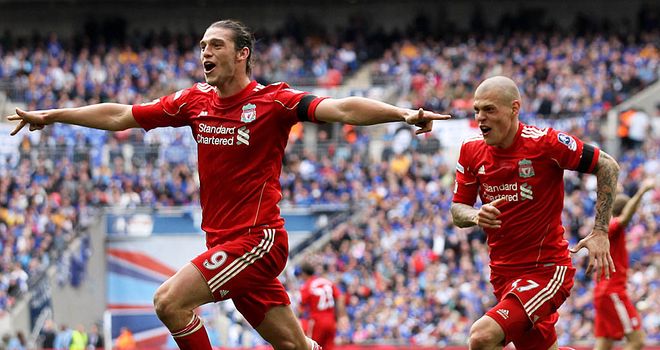 Andy Carroll wants to be given the chance to start more games for Liverpool and insists he has changed his lifestyle since his record-breaking move to Anfield.
The striker joined Liverpool from Newcastle United in January 2011 for a record fee for a British player, but has scored just 10 goals in 51 appearances.
He has started only 31 of those matches and admits his confidence has been low after spending large periods of the season on the substitutes' bench.
However, Carroll has started the Reds' last two games against Blackburn Rovers and Everton in the FA Cup semi-final, scoring the winner both times, and believes he will only get better with more time on the pitch.
"I am confident in myself that, if I am playing games, I will score goals and put myself about," said the 23-year-old.
"I cannot really do that if I am on the bench and coming on in the last 10 minutes of games.
"What I want is to start games and put myself about like I know I can. When I haven't been playing, you get low on confidence."
Carroll also claimed the days of his party lifestyle off the pitch were behind him after former England boss Fabio Capello infamously warned him last September that he needed to "drink less".
"My past is my past. I changed my lifestyle when I came to Liverpool and settled down. I love it here," he added.
"People will say to me 'Oh, you were in the boozer last week' but it is just rumours going round.
"Now I just laugh it off. To be honest, I don't go out at all. I know what people say is not true, my family knows it's not true and the club knows it's not true.
"All I do now is sit in the house with my girlfriend, chill out and watch movies."