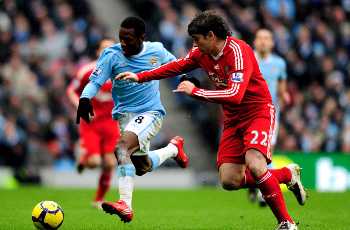 Rafael Benitez is hopeful Liverpool's left-back problem will solve itself in the coming weeks as two players return to full fitness.

The Spaniard is increasingly optimistic that Emiliano Insua will play some part in the remainder of the season despite tearing a muscle in his calf against Birmingham City last week, while fellow left-back Fabio Aurelio is also almost ready to return to training having not played since the end of February.

"Emiliano is doing well but it's a bad injury so we have to wait. He's working and having treatment," Benitez told the club's official website.

"He tore his quadriceps. He could play again this season if the treatment is good. It will be difficult but we'll see - we're trying very hard.

"Fabio is doing well too. Maybe in one week or 10 days he can be ready to train with the team. If Fabio can be ready it will be very important."

In the meantime centre-back Daniel Agger has been filling in at full-back. In other injury news, the club is still waiting on the results of Fernando Torres' knee injury after the striker visited a specialist on Monday.

Meanwhile, Jamie Carragher has encouraged the Reds not to give hope of finishing fourth, and believes the lack of pressure on them after Sunday's 0-0 draw with Fulham might play to their advantage.

"The other teams ahead of us will now be expected to get into the top four but they might not be able to deal with that pressure, so we won't give up," Carragher said.

"You never know what can happen in football so the pressure is on and we will see what happens."