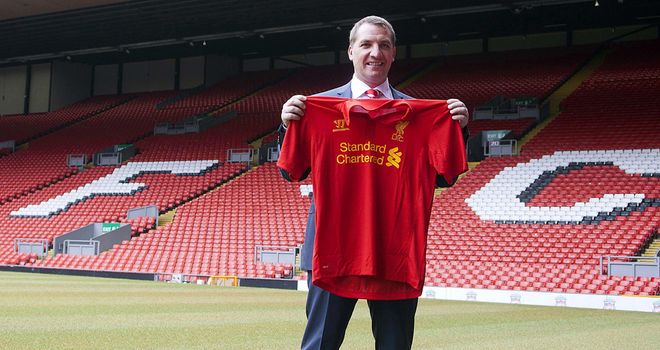 New Liverpool manager Brendan Rodgers has laid down the law to his new players, insisting that working hard is an 'obligation' under his new regime.
The 39-year-old was confirmed as Anfield boss last week after a successful stint with Premier League rivals Swansea City.
Rodgers guided the Swans to promotion via the play-offs in 2011 and then led them to a respectable 11th place finish in their first top flight season since 1983.
The former Reading and Watford boss was widely praised for the attractive style of possession football he employed at the Liberty Stadium, something that no doubt attracted interest from the Liverpool hierarchy as they sought to replace Kenny Dalglish.
That appeal appeared to be mutual, with Rodgers revealing Liverpool's illustrious history and footballing principles attracted him to the Merseyside club.
He has promised to instil those principles once more in the current Reds playing squad but insists that will only be achieved through hard work.
"For me [the attraction] is to defend the principles of this great club - which are about offensive, creative football with tactical discipline - and to retain the values of the club," said Rodgers.
"The tradition of this football club is about players playing the game in a stylish, relentless way with consistency at the very top.
"I have conditions to work in. I create a framework and the players come in and adhere to it.
"I hear people talking about working hard but for me it is an obligation - it's not a choice.
"We all work hard in our everyday lives as people and for players it is no different.
"It is quite simple. You come in and do a hard day's work. You make sure in training and on match days you come in and you can take your top off and wring it out and it will be soaking wet.
"It is that honesty that you want. If you can work hard and you have got talent it takes you a long way.
"That will be the emphasis for me here - to try to reinforce that and ensure that commitment to the cause is important because we have a cause to fight for here."
Rodgers has already begun his preparations for next season by assessing the squad and eyeing any potential transfer targets.
However, despite his grand ambitions for Liverpool the Northern Irishman did have a warning for the club's supporters, insisting that he and the players needed time and patience in order to achieve their ambitions.
"For me it is going to take time for how I want to play and the philosophy I want to introduce," added Rodgers.
"We want to play winning football, effective football. But I know, inherently, what we need to play that way and win that way but ultimately that will be the job of the next period of time.
"It is about results and the progress of the team but we will make our first steps and hopefully that will improve over the next few years.
"What we need to do is improve the team and the quality of the team and hopefully over the next couple of years we will be ready to challenge and ready to compete."