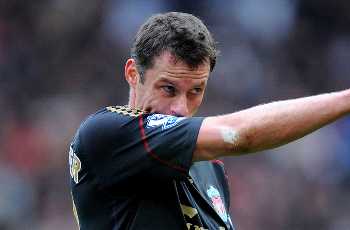 Liverpool defender Jamie Carragher is confident his side can overturn a 2-1 quarter-final loss to Benfica in the Europa League.

The Reds were beaten by the Portuguese giants on Thursday at Estadio Da Luz, but Carragher insists the away goal scored by Daniel Agger will prove crucial to the tie.

"It's good to get the away goal in the first leg, but we have to capitalise on that in the home leg to make it count," Carragher was quoted as saying in the Daily Express.

"At the moment we're behind, but a 1-0 win is enough for us at home and if we can get that, then the away goal will have proved crucial."

Liverpool will have to be wary, however, as they have already lost to Fiorentina and Lyon at Anfield in European fixtures this season - while Benfica have failed to register only once in their last 13 European outings.

However, Carragher believes the sending off of Ryan Babel was an important factor in their first leg loss.

"We're disappointed, but there's still all to play for – it's only half-time," explained the 32-year-old.

"The plan was to keep it tight and nick a goal and we got that goal early on, but obviously then the sending off had a big part to play in the game.

"To play an hour with ten men was always going to be difficult, so although it's still disappointing, a 2-1 result away in Europe is not too bad."