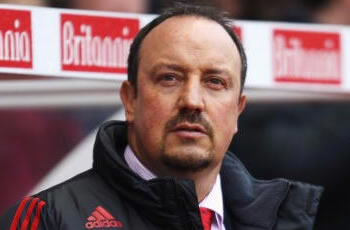 News of the World claims that Liverpool's owners, Tom Hicks and George Gillett, are divided on the subject of Rafael Benitez's future at the club.

The manager's position has come under increasing scrutiny in recent weeks - and especially since the Reds' humiliating defeat to Reading in the FA Cup on Wednesday.

Saturday's stalemate at Stoke City has only served to turn up the heat on the Spaniard, who is losing the favour of the fans with each passing disappointment on the pitch.

However, it is believed that the Kop board can do nothing for the time being, as the owners are at odds over whether or not Benitez should be given time to turn things around.

Hicks has voiced his support for the under-fire gaffer on numerous occasions this season, but it would appear that his partner - with whom he shares a frosty relationship - holds a different view.

An unnamed source is quoted as saying: "George Gillett believes the warnings about giving the manager a new five-year deal last season have proven true. He feels he was railroaded into making that decision and the team is now suffering because of it.

"At the very least, he believes the board should be having a healthy debate about the manager's position but it's evident Liverpool have backed themselves into a corner by publicly insisting it's not even up for discussion."