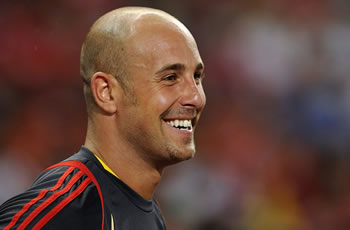 Liverpool goalkeeper Pepe Reina is sure that the Reds will improve after a disappointing opening to the campaign which has seen them pick up just six points from their opening six Premier League games.
The Spaniard points to Roy Hodgson's recent arrival as manager as the cause, with the team going through a transitional phase as they restructure after last season's disappointments.
However, he is confident that things will pick up as players begin to gel in new patterns and alongside new personnel.
"Six points from our first six games is not what we wanted," Reina told LFC Weekly.
"People who criticize us about it should look at the fixtures we've had. It has been a difficult start. Arsenal at home and then going to play Manchester City, Manchester United and Birmingham away was never going to be easy.
"Not many teams will go to the City of Manchester Stadium, Old Trafford or St Andrew's and win. Those three teams have very good records at home."
Reina feels that any team would struggle to cope with the amount of recent changes at Anfield and is calling for patience from supporters as the new structures at the club begin to bed down.
"When you have so many changes moving in a new direction under a new boss, things don't happen instantly. It can take between three and six months before you see improvements. Obviously the quicker we adapt and improve as a team the better it will be for everyone," he added.
"That doesn't just happen overnight. Each of us has to adjust to working in a new way. With the passing of each day I get used to it and what the manager wants.
"It's the same for all of us. We need to be patient."