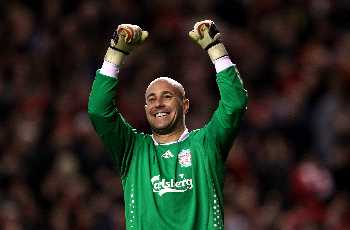 Liverpool goalkeepr Pepe Reina is one of the top five custodians in the sport, according to the coach who works with him every day.

Reina, 27, has developed into a world-class shot stopper at the club since joining from Spanish side Villarreal in 2006 and inked a six-year contract extension this season.

Although he is second choice behind Real Madrid's Iker Casillas at international level, this has not stopped Reds coach Xavi Valero from hailing his work.

Speaking to LFC Weekly, Valero said: "All of the top sides in Europe have a top goalkeeper who they can build a side around.

"At the moment there are only four or five world-class 'keepers in the game and we have one of them in Pepe. His new contract gives us stability for the immediate and long-term future.

"Pepe is at an age now where he feels he can control a game both technically and emotionally and be reliable for the team throughout 50-55 games a season.

"It is really hard for a 'keeper to remain focused in a game because sometimes they may only touch the ball five to 10 times in a match. So they must remain focused, possibly more than any other player on the pitch.

"You have to be intelligent to be a top 'keeper now. It is important to be clever and understand the game properly. It is ideal for a goalkeeper to read the game and be able to foresee what is going to happen in front of them so their reactions become automatic.

"When you have a goalkeeper who can control a game, only then do you have a goalkeeper who you can rely on. Pepe is that goalkeeper."