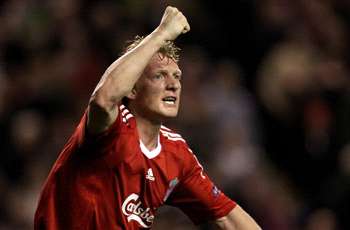 Dirk Kuyt is hoping that Liverpool can muster up four consecutive victories during the Christmas period.
The Reds' recent home game against Fulham was cancelled due to bad weather, but the Dutchman is now targeting the game against Blackpool on Boxing Day to start a winning streak.
Wolves, Bolton Wanderers and Blackburn Rovers are set to follow within a span of 10 days, and the 30-year-old is looking ahead to taking maximum points from these fixtures.
"This period is one of the most important of the season," Kuyt said, according to the Liverpool Echo.
"If we can produce a good run I'm sure we will be up near the top four.
"I'm sure a lot of the top teams will drop some points this month. If we could get four good results in a row, then who knows? Certainly the gap will be closer."
Kuyt added: "December is always a special month in the Premier League and one I always look forward to.
"It's hard work with four games in 10 days but that's what you want. I love to play games and always want to play as many as I can.
"Hopefully at the beginning of the New Year we can look back and say it was a great time for us and we climbed the table."