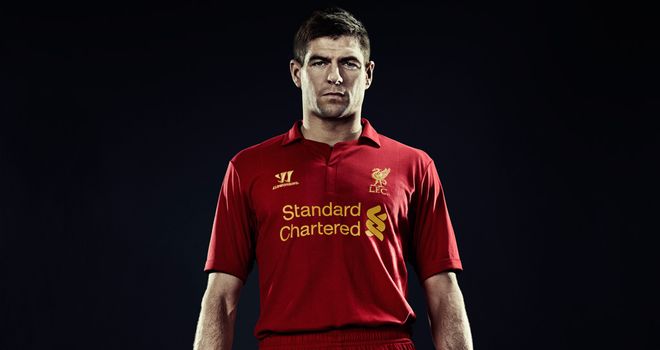 Liverpool skipper Steven Gerrard has backed new boss Brendan Rodgers to lead the club back into the UEFA Champions League next season.
The Reds have missed out on Europe's premier competition for the last three seasons after finishing outside the top four.
Former Liverpool boss Kenny Dalglish paid the price for the club's by being sacked earlier this summer, although Liverpool owners John W Henry and Tom Werner insist Rodgers is under no pressure to deliver the Champions League in his first season in charge.
Gerrard has been impressed by the early impact Rodgers has made and feels if they are a bit more clinical in the forthcoming season they can achieve their goals.
"I do think we will get in the top four," said Gerrard. "I think we will get it. I am confident we will get it.
"I am not being unrealistic. If we can play like we did in a lot of games last season, be clinical and take our chances, I think we will be high up in the table. I do.
"It has got to come. We are Liverpool. We can't finish eighth. We have got to put that right. We have got to take the criticism for underperforming last year. We can't be doing post-match interviews saying 'we should have got the points or we were not clinical enough'. We have got to be clinical. We have got to get the points we should get.
"I don't think it's ever happened that a team has gone from eighth to first, but there are still other big targets for us to achieve short term. Getting in that top four again is certainly the priority.
"I thought we were brilliant at times in the league, it's just that we never got out of games what we deserved. Don't get me wrong, though, I'm not going to sit here and make excuses. There were times when we murdered teams. We just hadn't come off with what we deserved.
"But there were other times you would come off thinking no wonder we are sixth, seventh and eighth in the league. We hadn't played well enough. It was frustrating but if you look at the season as a whole, you can't use an excuse for finishing eighth. It wasn't good enough."
Gerrard admits he was sad to see Dalglish leave, but not surprised by the club's decision to replace the Reds icon after a disappointing eighth place finish in the Premier League
"Kenny knows himself that when Liverpool finish eighth, the owners and supporters are going to ask questions," added Gerrard.
"Everyone knows that. While there was shock and disappointment at the time, you understood the decision. You move on with what the club wanted to do and they wanted Brendan Rodgers in. They wanted a young manager with a vision for the long-term. They want him to bring stability and that is hopefully what will happen.
"I think we'll definitely see a much bolder Liverpool team and more exciting too, but with a quick transition when we lose the ball.
"Over the years sometimes Liverpool have come up against certain type of opposition and we have shown them too much respect. Maybe we had to because of the style we've been asked to play.
"There were times under previous managers when we did that, but I think this manager is the opposite and wants us to play like a big team.
"There is a lot of hard work and a lot of learning to be done sharpish if we want to implement that straight away.
"In my second session we were already doing team shape and he is telling players what he expects movement wise, how he wants the team to do the transition when we lose the ball to win it back.
"The manager has made me aware of where he's at and what he's trying to do - I've been really impressed with him."