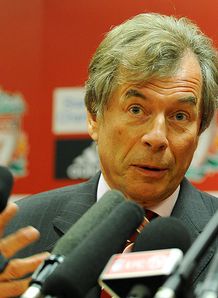 Liverpool chairman Martin Broughton has spoken exclusively to Sky Sports News about the proposed sale of the club.
Broughton has confirmed that the agreed deal with New England Sports Ventures (NESV), the parent company of the Boston Red Sox baseball club, is worth around £300million.
Broughton believes it will take a week for the deal to go through with current owners Tom Hicks and George Gillett challenging the sale via the courts, with the offer significantly under their own valuation of the Merseyside club.
While Broughton admits he is disappointed by the American duo's stance, he does not expect them to hinder NESV's projected takeover of the club.
"This was their last chance to leave with their heads high, it's a pity they have chosen this route," said the Reds chairman.
"Part of the terms of me taking on the role was that they gave a written undertaking that only I could change the board and they would not interfere and frustrate any reasonable sale.
"And this is frankly an abuse of these undertakings."
Broughton revealed Liverpool had only received two bids that they deemed valid, with NESV's track record with the Red Sox proving a key factor in their decision.
He also confirmed that the potential new owners plan to invest in new players in January, as well as exploring the prospect of a new stadium.
"They want to be judged by what they do rather than what they say and can demonstrate what they plan to do by what they have done," added Broughton.
"If you look at the Boston Red Sox as a classic example of taking a very famous, historic, major team that has seen better days and restored them to their glory, I think that is a parallel that demonstrates action.
"Their mentality is all about winning. They have invested a lot of money in players [at the Red Sox] and they have committed to making the necessary investment in players at Liverpool."
Broughton revealed NESV have not decided whether to continue previous plans to build a new stadium in Stanley Park, or to redevelop Anfield, but he insisted the new ownership intend to have a 60,000 capacity ground in place either way.
"They want to make sure they do the right thing on the stadium," said Broughton.
"They have built stadiums and they have restored stadiums. They have not committed to which is the right thing.
"We will have a stadium of more than 60,000. We will get substantial stadium development."
Broughton gave positive indications on Liverpool manager Roy Hodgson's chances of having funds to spend in January adding: "I think there will be money for players in the next transfer window."