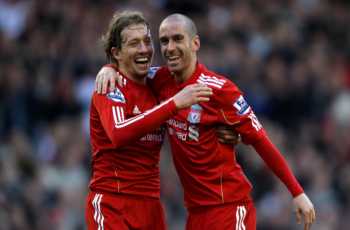 Midfielder Raul Meireles has been in top form of late having scored four goals in Liverpool's last five unbeaten games and has revealed that he now feels more part of the Reds family than before.
The 27-year-old joined Anfield in the summer for a £11.5million fee from Porto but failed to shine under Roy Hodgson.
However, the Portuguese midfielder has adjusted to Kenny Dalglish's managerial style and been in great form, most notably being the match-winning hero in Liverpool's 1-0 win at Stamford Bridge last Sunday. Meireles admits that he now feels very connected to the Kop and gets emotional when his name is chanted by the Reds fans.
He told The Sun: "The fans have been with me from my arrival, but now my goals mean their support for me is bigger. I am a hard man but I get very emotional when they sing my name during matches.
"As a foreigner watching Liverpool on television, I always sensed something special about the club but it's only possible to really understand it when you are here.
"To perform at Anfield and score a goal is fantastic. I am privileged to play for Liverpool and perhaps in time I will think that I have fulfilled the biggest dream of my sporting life."
Liverpool has resuscitated their season since Dalglish took the helm and while they were languishing in the relegation zone at the new manager's arrival, they are now in the chase to secure a spot in the Champions League.
New signings Luis Suarez and Andy Carroll give some fresh hopes to the Reds who had to bid goodbye to their starlet Fernando Torres in the process, but not everyone was pleased to see the Spaniard leave.
"I would prefer to have Torres in my squad than play against him but I respect what's happened," Meireles said.
"He is a worldwide star who helped me integrate at this club, which shows what sort of person he is. But football is a professional business, Fernando no longer leads our attack and we respect the situation. The manager insists he is the past and we must forget him. I believe that's right.
"Suarez is a big striker who has shown his quality with Ajax and Uruguay. He scored on his debut and this is important. We are all helping him to adapt and I am optimistic Luis will be a big star in the Premier League.
Asked why Liverpool is doing better since Kenny Dalglish replaced Hogdson, Meireles said:
"Hodgson was a very serious coach without much direct contact with the players.
"He tried to reinforce the defence more than the attack. Now things have changed.
"Dalglish speaks with people and offers more freedom of movement in the midfield line to help the forwards. My mission is not to score goals but to help my companions in attack.
"But Dalglish has demanded that I shoot in each match to test the keepers and I've had some success.
"To qualify for the Champions League will be a big prize for us after the bad beginning to our season. The victory at Stamford Bridge has improved our morale
"But I am convinced our series of bad results has ended and our best moments have arrived.
"The challenge is to improve match by match in the league and to dedicate total effort in the Europa League.
"To finish fourth is not easy, but the dressing room has decided to take on the challenge. If we fail in a couple of matches along the way it will be nearly impossible.
"We are in a race against the clock but there are still many points to play for."
"As for me, I suffered here to begin with but never thought I made an error in signing. I intend to improve on my performances. You've not seen the best of Meireles yet."