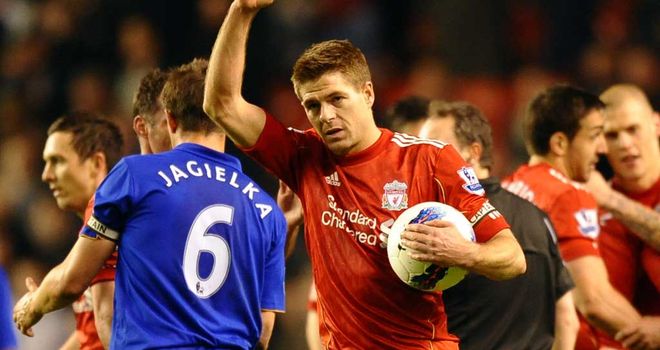 Captain Steven Gerrard knows Liverpool cannot afford to get swept up by derby fever as they aim to reach a second cup final of the season.
Kenny Dalglish's Carling Cup winners are preparing to take on Merseyside rivals Everton in Saturday's FA Cup semi-final.
The two near-neighbours last met at Wembley in 1989 and, with the game coinciding with the 23rd anniversary of the Hillsborough disaster, there is added poignancy.
Liverpool has defeated Everton twice this season, but Gerrard knows he and his players cannot allow their focus to drop.
"It's a proud day for me to lead the lads out at Wembley again and it's a proud day for the city," said the England international.
"It's a massive game and it's been a long time since Liverpool played Everton at Wembley so it's a fantastic occasion for the supporters.
"It's another important game for us players, we need to try and forget it's Everton and just focus on a really tough game on the day.
"We realize that it's important not to get ahead of ourselves. Although the game is at Wembley, it's still only a semi-final.
"There's still one massive hurdle to get over before we can get to the final. We still believe we can beat anyone, Everton included.
"What we have to do is make sure we're ready and focused and we concentrate on the game rather than the occasion."
Gerrard in March became the first Liverpool player to score a hat-trick in a Merseyside derby at Anfield since Fred Howe in 1935.
That result and Tuesday's last-gasp win at Blackburn will give the side a boost going in to Saturday' game.
"We've beaten Everton twice this year so that should give us belief and confidence, but we need to perform to the same levels at Wembley to get the same result," Gerrard told Liverpool's official website.
"We believe that we have the players in our squad capable of doing the job on the day but we all need to deliver good performances - all the players.
"To reach two major cup finals in the same season would be a fantastic achievement."