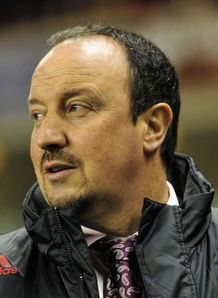 Liverpool manager Rafa Benitez has called on his team to improve their attacking form having tightened things up at the back.

The Reds have kept three clean sheets in their last three Premier League games against Bolton, Wolves and Tottenham, but they have been far from free-scoring in front of goal.

Liverpool have only netted 42 goals in 24 games so far this season - the fewest of any side in the top six - with Fernando Torres currently sidelined with injury.

Benitez insists there has been an upturn in his side's performances and hopes the increased confidence at Anfield will produce a glut of goals in upcoming matches.

"You have to keep analysing the big picture," he told the Liverpool Echo.

"If every week you think it is one step forward then one step back, you will become very nervous.

"So it is important to keep a perspective and giving confidence to the players. We have just had another win (against Bolton) and another clean sheet. That is a positive.

"Okay, it wasn't as good in attack as we want it to be but we have to keep pushing and we know can improve. We need more positives than negatives.

"The players know that we are improving. We are doing much better in defence and that is a big difference but we have to improve in attack, that is clear."

Liverpool take on Merseyside rivals Everton in the league on Saturday, with the Toffees also in a good run of form themselves.

The Reds have not conceded in 270 minutes of top-fight football although Benitez admits Jamie Carragher may be forced to play at right-back, with Glen Johnson and Martin Kelly sidelined.

"We know playing Carra on the right is more demanding than in the centre but he will always work hard for the team and is playing really well," he added.

"The priority at the minute is to fix the position at right-back.

"We have got (Martin) Kelly coming back, (Philipp) Degen is improving and (Stephen) Darby has been with us.

"We are trying to manage. But the player with most experience is Carra. He, at this moment in time, is the best for the team."