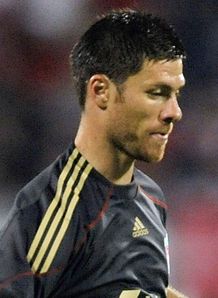 Rafa Benitez remained tight-lipped when quizzed on whether his side's 5-0 defeat of Singapore on Sunday represented Xabi Alonso's last appearance in a Liverpool shirt.

The Spanish midfielder, publically courted by Real Madrid all summer, came on for the final 13 minutes for his first pre-season appearance.

Benitez has repeatedly stated his intent to keep Alonso at Anfield but when asked if the player would still be in England next season, he felt the question would be better directed at the 27-year-old.

"It's a question that you have to ask him," he said.

"Honestly, we've been talking about this for two months but I think that it is a question for him and not for us.

"He has three years on his contract and we know he is a great player - that's why we signed him and renewed his contract. So you have to ask him."

Benitez declared himself delighted with his team's performance in the final game of their tour of Asia and was especially pleased with the promise shown by 20-year-old Krisztian Nemeth.

Nemeth came off the substitutes' bench to score twice in the Lion City and has clearly made a favorable impression on his manager.

"He was really good two years ago for the reserve team, scoring a lot of goals but last year he had some problems with injuries," added Benitez.

"But he showed today that he's a good finisher and a player with a future.

"It depends on the players always. If they're knocking on the door and they knock really hard, then I have to hear. This is important and it depends on them."

Benitez insisted that he will be leaving Asia with happy memories.

"The fans have been amazing and it felt for us like we were back at Anfield," he said.

"People here have been treating us with a lot of respect and you can see the passion. Sometimes you say it's too far (to travel to Asia) and you have one week away from your families but you can see the faces of the fans and you feel good to be out here.

"When you've got fans saying that they've been waiting eight years to see you, you have to be pleased to be here."

Such is the passion for the club in Asia that Benitez believes his side will enjoy a significant advantage if the Premier League ever manages to get its plan to play a 39th game in the region off the ground.

"We normally play around 60 games a year so if were to play more games, it would have to be organized properly. But it's not our decision - the coaches and managers have to prepare the teams so it depends on other people.

"But if we have to play with these fans behind us all the time, it will be like playing at home."