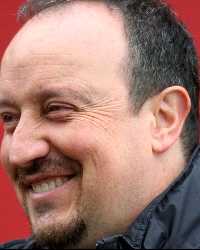 At the conclusion of one of the most disappointing campaigns in the club's recent memory, Liverpool manager Rafael Benitez hopes he gets the chance to ensure next season sees a Red renaissance.

The Anfield club finished seventh in the final Premier League standings with 23 points adrift of winners Chelsea. Benitez's future has been under huge scrutiny in recent weeks, with a move to Italian strugglers Juventus strongly linked, but the Spaniard insisted after Sunday's disappointing 0-0 draw with Hull City that he was willing and capable of turning things around.

Benitez won the Champions League and FA Cup in his first two seasons at the club, yet in the past four campaigns has failed to add to his tally. But in the wake of seeing Chelsea grab their first title since 2006, Benitez was quick to draw parallels with the London club.

"For any manager, when you have a bad season, you want to improve and change things and I think it has to be this way," Benitez told reporters.

"I think all the managers, especially when they are in England and are at a club for a long time, will have good moments and bad moments.

"In football every year you cannot win and win and win. You can see Chelsea winning [the Premier League], not winning and now winning again so it can happen."

Asked if he deserved the chance to revitalise Liverpool's fortunes, Benitez phrased his answer to rally against what he perceives to be a negative media campaign against him, with certain outlets using anonymous sources in articles to push their own agenda.

"It depends.'Senior sources' maybe will say different but it has been the same in the history of football," he said, before outlining what he hopes will be achieved in his latest meeting with the club's chairman, Martin Broughton.

"Every meeting helps, in one way or another, and at this moment we have to talk about everything," said the Reds boss.

"Hopefully the second meeting will be as positive as the first one, but the press continues with the same agenda.

"I think for the stability of the club it is important because we have to move forward on everything.

"Hopefully we can progress with our next meeting."