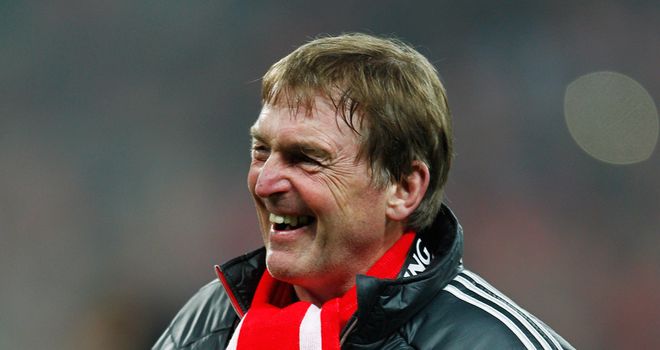 Kenny Dalglish hopes Liverpool can carry the momentum from their FA Cup semi-final victory over local rivals Everton into the remainder of the season.
The Reds triumphed 2-1 against the Toffees in last weekend's derby encounter at Wembley to book a spot in the final against Chelsea - their second cup decider this season after lifting the Carling Cup.
Liverpool's league form has been less impressive but manager Dalglish is hoping Saturday's triumph will give his side impetus in the five games they have left.
"There is always a good feel around and about the football club," he told the club's official website.
"Melwood has always been a nice place to come and work since I've come in and the positive result we got on Saturday puts an extra couple of centimetres on people's smiles.
"We've got our reward for winning in the semi-final against Everton and we want to keep that momentum going.
"We want to try and play as well as we possibly can and get as positive results as we possibly can between now and the end of the season."
Liverpool's fans could struggle to get to Wembley for the final against Chelsea on May 5th, with rail maintenance work over the Bank Holiday weekend, coupled with a 5.15pm kick-off, meaning thousands travelling from the North West will have to find alternative transport.
It adds more misery on supporters who have been allocated 25,000 tickets for the decider - almost 7,000 fewer than their semi-final against Everton last weekend.
Dalglish believes fans are "taken for granted" when it comes to the big events but is confident supporters will make it to Wembley.
"Sometimes that is the problem when fans are taken for granted - not just our fans but those at all football clubs," he said. "That is the decision which has been made and it's been made outside of our control.
"It could have been made a bit easier for them but they are fantastic fans and they will get there."
Liverpool's next challenge comes against West Brom this weekend, with Baggies boss Roy Hodgson set to return to Anfield after an ill-fated stint at the helm over the first half of last season.
Hodgson has enjoyed more success at The Hawthorns, keeping Albion safe from relegation last season and guiding them into midtable this term.
Dalglish expects the manager to be afforded a warm reception when he returns to Merseyside, adding: "It will be good to see Roy. To see him back at Anfield - obviously we've played them down there already - will be good and I'm sure he'll get a warm reception from the supporters.
"He's a man with real integrity and dignity and he tried his best for this football club. I'm sure the supporters will respect that."