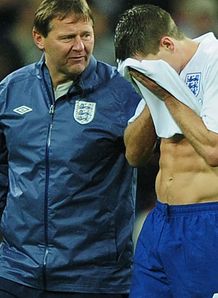 England and Liverpool have both confirmed that an agreement was broken over the amount of time Steven Gerrard would spend on the pitch against France.
After talks between the Merseyside club and England, it was agreed that Fabio Capello would play Gerrard for no more than an hour.
However, Gerrard ended up playing until just six minutes from time when he was forced off with a hamstring injury.
Capello's decision saw Liverpool's head of fitness and conditioning Darren Burgess post a tweet slamming England's behaviour as 'disgraceful'
In his tweet, which was removed 55 minutes after going up on Twitter, Burgess said: "Unbelievable from all associated with England and English FA with regard to Steven Gerrard's injury. Completely ignored agreement and past history.
"Completely amateurish and now we pay for their incompetence. Absolutely disgraceful."
Capello admitted that an injury to Gareth Barry meant he had to stay on beyond the previously agreed schedule.
However, Capello insisted that any club cannot dictate to a national team how long somebody should play.
"We spoke with Steve and he said he would play one hour, but after Barry's injury we had some problems," admitted Capello.
"That was the reason he stayed on the pitch. If it's possible, the players will play the time we agreed with the club.
"But Barry was really injured so we needed someone senior on the pitch because it was a really young team. He said he was good.
"They [Liverpool] asked that he can play one hour if it's possible. They can't decide how long a player plays with the national team.
"If it's possible, he'd have played an hour. I understand why they're upset and I'm also upset.
"The problem is that, when you play this game on Wednesday after a lot of Premier League, Europa League or Champions League games, it's possible there might be an injury for a player. The Premier League, every time, is a tough league for the players."
"We're upset about what happened to Steve, of course."