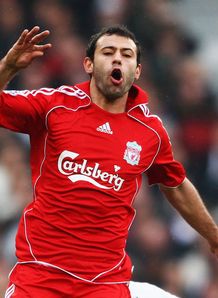 Javier Mascherano wants Liverpool to start next season in the fine form they have shown towards the end of the current campaign.

The Reds have beaten Arsenal and Internazionale in the UEFA Champions League and won eight, drawn two and lost one of their last 11 Premier League games, including a derby victory over Everton.

Rafa Benitez's men have secured a spot in the Champions League next season, but despite their recent good run, poor league results in the early part of the campaign mean they are still 11 points adrift of the top spot.

And their most recent blow came as they were beaten in the Champions League semi-final by Chelsea midweek.

Midfielder Mascherano, however, is already looking ahead to next year and believes if they continue to play in the same way they will be in with a chance of winning silverware.

"Over the last two months we have gone very well in the Premier League and Europe," he told the Daily Star.

"We need to make sure we repeat it from the start of the season next time.

"We have the quality and the players who want to win and we will do everything we can to make it happen.

"Right now it is just so painful because we know we had a great chance to go all the way to the final again. We were up against a very good side.

"You have to take the positives from things and now that is all we can do."

He added: "At the moment I am very sad because we were so close to the final.

"We know we made some mistakes when it came to the Premier League earlier in the season.

"We need to lift ourselves and play to the end of the season, but what is very important is we make sure we start the next one in the right way.

"We need to make sure we play the way we have been doing for the past two or three months.

"If we can manage that, we will make the breakthrough and be fighting to win trophies."