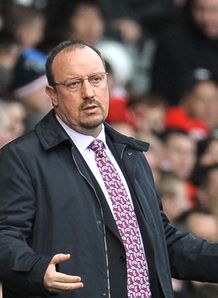 Liverpool manager Rafa Benitez acknowledges that his transfer options could depend on a place in the top four of the Premier League and success in the Europa League.

The Reds are clinging to the hope of a spot in next season's UEFA Champions League and they are also preparing for a Europa League quarter-final against Benfica.

Benitez has admitted that sixth-placed Liverpool are now dependent upon mistakes among their rivals in the race for fourth position and they were grateful on Wednesday when Aston Villa and Manchester City dropped points.

The Anfield boss is well aware of the importance of participating in the Champions League and winning silverware from a playing perspective, but also in attracting new faces to move to Merseyside.

"Players want to win trophies and want to finish in the top four," said Benitez, who has already agreed a pre-contract deal with Standard Liege forward Milan Jovanovic.

"The players know it is important to perform now for the future and they want to stay here so I think it will be okay.

"We are now in a situation where we have to move forward and try to bring the best from each player. It is not easy to stay at a very good level in a season.

"The main thing is we have some players coming back from injuries and if they are together and push together I am sure we will do really well.

"This club is a massive club so if we can progress in the Europa League and finish in the top four a lot of (other) players will be thinking whether to come here or stay where they are."