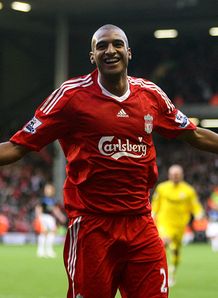 Liverpool striker David Ngog wants to score more goals for Rafa Benitez to repay the Spaniard for improving his game.

The 20-year-old has netted twice in the Premier League this term - against Stoke City and Manchester United - in four substitute appearances.

The France Under-21 international has also scored in the Carling Cup against Leeds and for the reserves.

But Ngog, who signed from Paris St Germain in July 2008, is hungry for more.

He told Liverpoolfc.tv: "Rafa has improved me.

"I've learnt a lot at this club and the manager has given me a lot of confidence. I thank him for that and now I have to give my best for him.

"I just want to score and do my best for the team, and I know I have the qualities to do these things.

"Every player has to improve some things and I know with time and experience I will be better.

"I have to be patient, work every day in training and do my best when I get a chance."

Ngog received a big boost with his goal against United in Liverpool's 2-0 success at Anfield.

"I will keep this moment with me for the rest of my career," he said. "The goal went really fast - I didn't have time to think.

"Of course it's made me hungry for more. I know I can give a lot to this club and it's given me confidence."

Ngog believes Benitez is the right man to turn things around at Anfield after a difficult start to the campaign.

"He is a really good coach with experience," said the French striker.

"He knows what to do in these kinds of situations. He is a good person for the club and he's helped this club be one of the best in Europe again. We continue to trust and believe in him.

"I don't really read the papers. We know people like to talk but we have to stay focused, stay together and work together. We believe we have a good team.

"We know we can do better and win games."