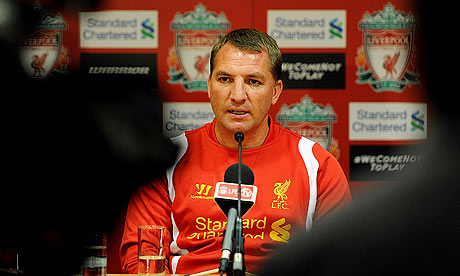 Brendan Rodgers has indicated Liverpool will not be greatly strengthening their squad this summer due to the club not having a "wheelbarrow load" of money. The new manager, however, claimed that there may be a new signing by the end of this week.
Rodgers, who lost Gylfi Sigurdsson to Tottenham despite managing the Icelander at his previous club, Swansea, said: "We don't have a wheelbarrow load of money, there is not the money flying about people think there is. There certainly won't be as many [signings] as is being labelled out there. There have been a whole raft of players being linked and only a few are real targets for us.
"The reality is we have only made three or four inquiries about players and hopefully can close out one deal this week which will be a real exciting one for the club, one the supporters will absolutely love. We want to work with the great players we have here and make three or four tweaks in relation to the squad that can help the group. We want to be competitive in every game and challenging at the top end."
Sigurdsson opted for Spurs after failing to agree a deal with Liverpool. Rodgers would not offer him better terms at Anfield than those the midfielder agreed when he initially accepted a move to Swansea before the Northern Irishman departed for Merseyside.
"I don't just want to identify a player and then let them come in at whatever cost," Rodgers added. "One of the things which distorts the reality of football is money. I don't see the sense of a player coming in if we have to pay over the odds for him. There are many good players out there but not many who have the courage and bravery to play the way we want to.
"This is a club which is a way of life, it is not just a club where you turn up for two hours training and then go away. You have to be prepared to come into the culture and philosophy of the club and if you don't then it's not a problem, but this is not the right fit for you. I want players that are hungry to succeed and want to match the ambitions of how we want to move forward, and the reality of that is there are very few players who can match that."