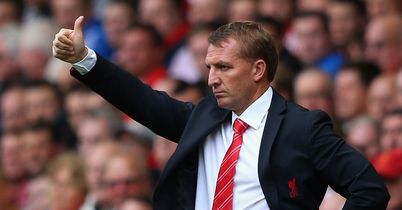 Liverpool FanZoner Richard Garnett gives his take on the Reds' current squad and their 100% start to the Premier League campaign.
No you haven't woken up in 1990, Liverpool really are top of the league.
It's get better too. A 1-0 victory over the old enemy has maintained a 100% start to the league campaign in which the Reds are yet to concede a goal.
Daniel Sturridge has scored five goals in four domestic matches. Luis Suarez hasn't kicked a ball yet and Liverpool has even scored a goal from a corner. You couldn't make this type of stuff up.
Monday's calm completion of deadline day deals for Mamadou Sahko, Tiago Ilori and Victor Moses bolstered a compact but improving squad, which is understandably high on confidence.
Of course, there is no need to get carried away here. The Premier League season is only three weeks old and there is a sufficient sum of other clubs with stronger squads to suggest that any hope of Liverpool finishing in the position they now find themselves is pure fantasy.
Nevertheless, something has changed at Anfield. Overnight the team appears to have developed a mental strength that was previously conspicuous by its absence.
Perhaps the catalyst for this welcome upturn in resilience was Simon Mignolet's penalty save against Stoke on the opening day of the season.
The Belgian's inspirational 'thy shall not pass' moment appears to have set an example to his new teammates who are now displaying a hunger that is refreshing and in all honesty, unexpected.
On paper Liverpool should finish sixth this season - a one-place improvement on the previous campaign.
But leagues aren't won on paper and after a perfect start, Brendan Rodgers must be buoyed by the knowledge that instilling belief in his players is now not the hard sell it must have seemed last season, when Liverpool were incapable of beating any team above them in the table.
The deadline day acquisitions of Sahko and Ilori bring much welcome competition to the centre of defence - an area that proved to be an Achilles heel for Liverpool last season.
Competition for places has already made a positive impact, with Daniel Agger and Martin Skrtel delivering stellar performances against United. Exactly what Rodgers would have wanted.
Without question however, Rodgers' finest piece of business was holding on to Suarez amidst a whirlwind of speculation that he was out the door.
There's little doubt that Suarez wanted to move on and play in the Champions League but now that the transfer window is shut, I expect him to be fully committed to the Liverpool cause.
With no European football to offer this term, players like Suarez are very difficult to replace. It was vital that Rodgers held onto him if the club is serious about fulfilling its ambition to return to the Champions League and kick on from there.
But Liverpool currently sits at the top of the table without the help of the Uruguayan. That in itself is refreshing as new stars emerge from his shadow at Anfield.
As Liverpool dug in for victory against Manchester United, bufferflies fluttered in the stomach of supporters. It was a feeling of nervous anticipation as belief started to grow on mass that Liverpool could be a force to be reckoned with again after a period of relative obscurity.
It's too early to say how the Reds' season will pan out from here with injuries already providing an unwanted distraction, but with confidence rocketing and new recruits inspired by Sunday's uplifting victory there could be some fun times ahead.
United will get an early opportunity to make amends for this defeat when the two sides meet in the League Cup at Old Trafford on 25th September.
That is if they can handle the returning South American gun-slinger of course.