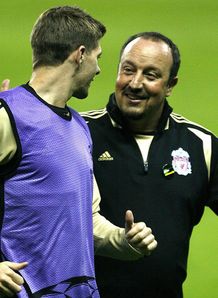 Liverpool boss Rafa Benitez is hopeful Steven Gerrard's return from injury will be swift after the Football Association was 'satisfied' the problem was legitimate.

The Reds announced on Sunday that Gerrard would be unavailable for England's friendly with Germany after he sustained a groin injury at Bolton Wanderers the day before.

However, the midfielder was instructed by manager Fabio Capello to report and be assessed by England's own medical team in London.

Gerrard made the trip from Merseyside on Monday and it was later confirmed he was unfit to travel to Berlin for Wednesday's encounter.

The sequence of events has sparked rumours of a rift between Capello and Benitez, but the Spaniard has yet to publicly voice his side of the reported tension.

Benitez said in The Times: "We had to do a scan after the Bolton game because Steven said he had some pain in his groin.

"It is not a massive problem and we hope he will be ready to return in seven to 10 days."

FA director of communications Adrian Bevington added: "It's just very unfortunate that we've got a lot of players who are regulars in the squad who are not around.

"The fact is that players have been down and have been assessed and we are satisfied that these players have legitimate injuries.

"The medical scans show it up, so there shouldn't be any suggestion or innuendo otherwise. The players are absolutely gutted that they are not able to play for England in Berlin on Wednesday night."