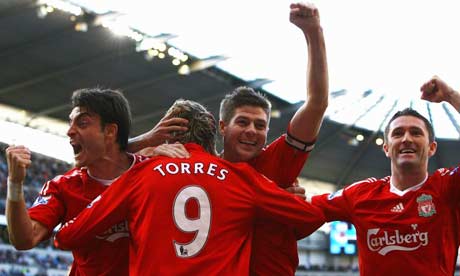 A win is a win is a win but, as Morrissey almost said, some wins are bigger than others.

To see Liverpool's delirious celebration of Dirk Kuyt's winning goal at Eastlands today, after they had been 2-0 down at the end of a thoroughly miserable first half, was to see a side with an increasingly powerful belief that destiny is with them, and that it has decided their run without a league title will end at 19 years.

Liverpool did not play particularly well until Pablo Zabaleta was given a straight red for an appalling challenge on Xabi Alonso, after which they picked City apart at will, but that only adds to the worthiness of their victory. There is an inclination to talk of such victories as displaying the "mark of champions", when a team have played badly but willed or lucked their way to a win.

Yet what is just as important as the perception that a lucky victory is the preserve of the bona fide title contenders is the extent to which the confidence and sense of fate that can be drawn from such victories permeates through future contests. Liverpool will glean an immeasurable psychological boost from the manner of their win.

There are still issues with the team, not least at full-back, but this will only reinforce the growing belief on the Kop that this could be Liverpool's year. Late wins, comeback wins, lucky wins: Liverpool are ticking a lot of the boxes of the potential champion. The force is strong in these ones.

Every title-winner recalls one symbolic victory: recent examples include Manchester United's heist at Anfield in March 2007, Chelsea's show of bare-chested cheek after withstanding a physical battering at Blackburn in February 2005, and Thierry Henry's 4-2 victory over Liverpool in April 2004. Usually, by their very nature, they come in the second half of the season. But if Liverpool win the league this year, this might be the one.

Comeback wins (Liverpool have already come from behind three times to win this season) and in particular late goals offer a window into a very healthy soul – remember how many Manchester United's treble winners scored – and this is the third time in seven league games that Liverpool have won with a goal in the final 10 minutes, two of them in injury time. Ryan Babel's winner against United also came late, with 13 minutes to go.

Liverpool are gathering force through each game and, as a consequence, gathering an even stronger force for the long-game of the title race.