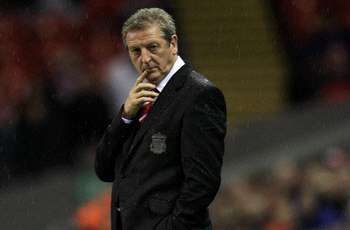 Roy Hodgson believes the absence of Steven Gerrard can prompt an increased competition for places in Liverpool's midfield.
Gerrard will be missing for the next four weeks after suffering a hamstring injury while on international duty with England last week.
The skipper watched from the Anfield directors' box on Saturday as Liverpool bounced back from their dreadful defeat at Stoke City the previous week with a routine 3-0 win over rock-bottom West Ham United.
With the suspended Lucas Leiva and injured Jay Spearing also missing, Raul Meireles and Christian Poulsen impressed in central midfield against the Hammers.
And Hodgson reckons Liverpool have shown they can learn to cope without Gerrard for the short term.
"Steven Gerrard is important, he is decisive, and if we are to have a good season we are going to need him," said the Anfield manager. "But I think it's very good for the players who came in and took his and Lucas Leiva's place.
"It increases competition for places but, most importantly, it stops people accusing us of being a one or a two-man team. It was also nice to see Fernando Torres doing so well. He didn't get a goal but he was a constant thorn.
It was a good team performance with some very good individual performances. I suppose it will be written off a little bit because West Ham are not having a good time but we can't change that. We can only play against the opposition in front of us."
Meireles was Liverpool's most impressive performer while Poulsen, a target for the boo boys in recent weeks, earned the praise of his manager.
"Poulsen has not had a good time," said Hodgson. "He's been criticized and not played up to his potential. Often he's played in a team that has not done well. But he gave an outstanding performance and showed his mental strength."
Defeat for West Ham increased the pressure on their beleaguered manager Avram Grant, who had to endure chants from the away fans calling for his sacking.
"I do have sympathy," said Hodgson. "It's not easy when you are watching your team play and you don't see where a goal is going to come from but you can see your team conceding a lot more. It's a very unpleasant situation.
"They came up against a good Liverpool."
Of the barracking Grant received from West Ham fans, Hodgson – who has suffered similarly at the hands of certain sections of the Liverpool support this season – added: "You get that. We have to learn to live with that these days I'm afraid.
"When I first went to Switzerland in the early 1990s we used to watch French football and I was astounded by how often a team was booed off at half-time if it was losing or the cat-calls that came at the end.
"I remember saying to my wife 'That wouldn't happen in England'. Here at Anfield in particular I remember seeing away teams applauded off after winning, which may have been a one-off, but today all of that has gone out of the window.
"Today you know what's coming. It's not nice but you live with it.
"I've got to say I thought the West Ham fans were quite humorous in what they were singing. To be fair to them, they travelled a long way to watch their team here.
"They came with high hopes and they've watched their team given very little hope of getting anything out of the game, so I suppose they found their comfort where they can."