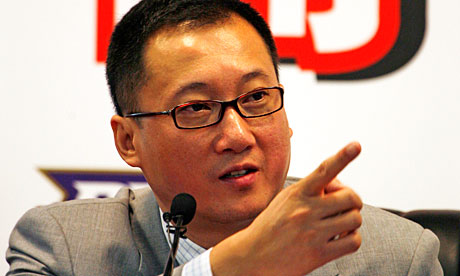 Liverpool have 10 days to decide on the offer from Kenny Huang to buy the club's debt.
And if they have not given an answer by then, the Chinese billionaire will walk away.
Huang, head of Hong Kong-based investment company QSL Sports Ltd, wants to take over the £237million RBS loan handed to the unpopular American owners Tom Hicks and George Gillett.
Liverpool themselves are treating him as a serious bidder and chairman Martin Broughton - the BA supremo brought in to sell the club - has opened talks with Huang's group.
Huang is adamant he will make hefty funds available to bring in world-class players and tempt stars such as Fernando Torres into staying at Anfield.
But he has insisted on an answer from Liverpool by the end of next week - or he will pull the plug.
Taking over the debt would give the Chinese businessman a huge chance of forcing Hicks and Gillett out of power.
Huang, who bought 15 per cent of US basketball team Cleveland Cavaliers last year and is involved in Chinese baseball, also plans to finally get Liverpool's new 60,000-seat stadium off the ground.
And while buying the debt would not give him immediate ownership, sources insist it would hand him "a ridiculously large amount of leverage".
The club has officially been on the market since April, when the American duo admitted they felt they had taken Liverpool as far as they could.