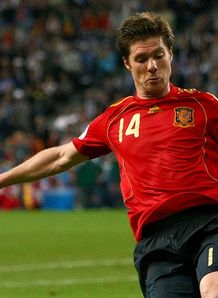 Xabi Alonso insists he would have no problem staying at Liverpool, as a proposed move to Juventus stalls due to the two clubs' inability to settle on a transfer fee.

The classy Spaniard was expected to tie-up a switch to Serie A at the conclusion of the European Championship after Liverpool intimated a willingness to sell.

Gareth Barry's long-protracted move from Aston Villa was thought to be reliant on Alonso's exit generating funds but the likely departure of Peter Crouch to Portsmouth would swell the transfer coffers significantly.

And should it be that Juve fail to match Liverpool's valuation, Alonso will be more than content to stay on Merseyside.

"I am very happy with Liverpool, the city, the people and they treat me very well," Alonso is quoted in The Sun.

"It's great to be European champion with my club and with my country but I'd love a league medal.

"It's the one that is missing."