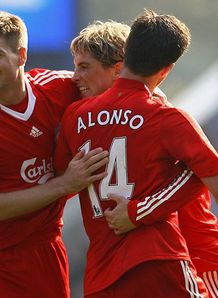 Xabi Alonso has warned Liverpool not to rush Steven Gerrard back from injury into the team.

Gerrard has been pencilled in for a surprise return to the side for this weekend's clash with Manchester City after making a quicker than expected recovery from his hamstring problem.

Alonso, who will miss the meeting with City at Anfield on Sunday through suspension, is wary of rushing Gerrard back too soon in case he suffers a relapse of the injury.

"It is good to see Stevie coming back but we have to wait until he is 100 per cent," warned Alonso.

"It is not intelligent to rush him back. Whenever he feels okay he will be a big part of our squad again."

Alonso admits he will be a frustrated observer on Sunday after picking up five bookings this season.

"It is always frustrating to watch games from the stands but I have known for a while I was likely to miss a match at some point and it has to be this one on Sunday," added Alonso.

"The important thing is all our international players came back fit last week and we have all also had some time off.

"It is important to have some time to disconnect during the middle of the season and now we can look forward to the game with Manchester City, which is going to be very important for us if we want to challenge for the title.

"Hopefully it will not be as dramatic as our game at City when we were two goals down at half-time. We had to play with a lot of belief in that second half and score three goals, which eventually we managed.

"This time hopefully it will be more comfortable.

"But they are a good team even though they have not got the best of away records this season, so we know we will be in for a tough match."