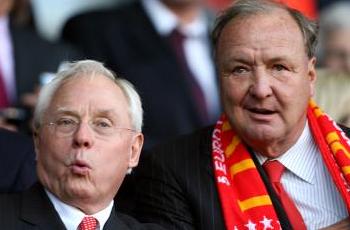 Despite announcing that the club was up for sale in April, Liverpool co-owners Tom Hicks and George Gillett have reportedly been plotting to remain in control, according to The News of the World.
Having spent the summer trying to re-finance their huge debts, the pair asked Barclays Capital and FBR Capital Bank to approach several investment banks to negotiate £290 million of debt, and if successful this would have freed the co-owners of their arrangement with the Royal Bank of Scotland and Wells Fargo which ends in October.
Chairman Martin Broughton, managing director Christian Purslow and commercial director Ian Ayre has made it clear that a sale of the club, not another refinancing agreement, is in the best interests of Liverpool FC.
The trio enlisted the advice of international law firm Slaughter and May as to whether the wishes of the club's owners could be opposed and were advised in favour of blocking Hicks and Gillett's plans.
This latest development contradicts the noises coming from Anfield's American co-owners over the past few months, which included statements announcing that the sale of the club was at the top of their agenda and more recent reports of 'advanced takeover talks' with Syrian businessman Yahya Kirdi.
Hicks and Gillett know that if they refinance and stay at the helm beyond their RBS debt payment deadline on October 6, they could possibly attract higher bids for their shares.
However, failure to meet a second debt payment deadline today means they will be hit with another £7.5 million charge. A third charge of £7.5 million will come into effect on August 31 and by the end of this month, the Americans' debt will have risen to an astonishing £282.4 million.
If they are unable to pay, then Liverpool face the real possibility of the RBS taking control of the club, with Liverpool FC being forced into administration and being hit with a nine-point penalty.