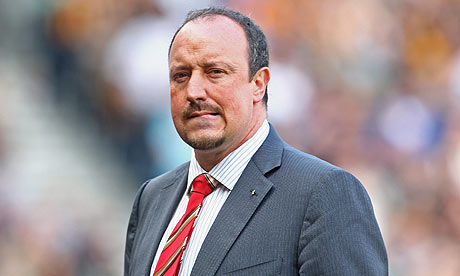 Rafa Benítez could not resist a dig at Sir Alex Ferguson on Saturday.Asked about criticism he received from both Manchester United's manager and Sam Allardyce following Liverpool's recent win against Blackburn, the Spaniard retorted. "Maybe people have nothing to do."

Ferguson claimed that when Liverpool assumed an early 2–0 lead Benitez made a hand motion indicating the game was over but his Anfield counterpart insists it was merely a self deprecatory gesture intended for Xabi Alonso who had ignored his instructions and created a goal.

"With 30 minutes in the first half gone, how can you say that the game is over? Impossible," said Benítez.

"I was saying, 'Alonso, play short' but Alonso crossed and Torres scored. So I was saying, 'OK, good'. Simple.

To create something around this means that maybe somebody has nothing to do. Maybe people have nothing to do."

Meanwhile Dirk Kuyt appeared to mimic Benítez's reaction to that Torres strike when he celebrated scoring his second and Liverpool's third goal at Hull. The Dutchman denied this but added: "Rafa makes signals with his hands like that all the time in games."