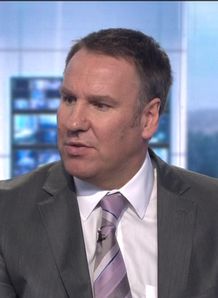 Paul Merson felt Liverpool boss Kenny Dalglish got his tactics wrong in their 0-0 draw with Stoke.
The Reds went into the match with three central defenders - Jamie Carragher, Sebastian Coates and Martin Skrtel - looking to deal with Stoke's lone striker Peter Crouch.
Merson said it became quickly apparent that Liverpool didn't need so many bodies at the back, but Dalglish persisted with the formation throughout a frustrating 90 minutes for the Anfield crowd.
The Soccer Saturday expert said those tactics might work in the second leg of Liverpool's Carling Cup semi-final against Manchester City, but felt they should have switched to a flat back-four against Stoke.
Merson said: "Stoke were playing Crouch up front, who's brilliant at holding the ball up, but he's not going to have the pace to hurt you behind.
"They probably thought if Stoke got the ball they'd start playing diagonal balls into Crouch and he's bigger than the three that did play there - and hopefully they could win the second ball.
"But after 10 minutes you knew that wasn't going to be the case. Liverpool played all of the game in their half and they were still playing three centre-halves marking Crouch on his own. It should have been changed, no question it should have been changed.
"I don't know if they're playing like that to get ready for Man City in two weeks' time. They're already 1-0 up so that's the time I probably would play it.
"But I didn't see why they had to keep with it and even when they were chasing the game and Stoke were getting deeper and deeper they still played three at the back.
"It was a strange decision for me."
Dalglish also utilized Dirk Kuyt as a lone striker before bringing on Craig Bellamy and Andy Carroll in the second half and Merson felt that was also a mistake.
He felt Kuyt didn't have the pace or the presence to suit that system and his lack of pace meant captain Steven Gerrard struggled to deliver any killer passes.
"Steven Gerrard was the player who was trying to get things going," Merson added.
"But it doesn't matter how good you are. You can be the best player in the world at number 10 or the player who is going to provide, if you ain't got the players up front and you've got no movement you've got no chance.
"They were paceless. Until Craig Bellamy came on, nobody was quick.
"I thought Carroll was the player who would definitely play on Saturday. When you play three at the back and five in midfield with the full-backs making a five, I thought he would be the player who would go up front, hold the ball up and let people like Gerrard, Charlie Adam and Jordan Henderson run off him.
"That wasn't the case. In the first half Kuyt was coming back further than the midfield. He was coming shorter and shorter and they had nobody up front."
Merson admitted he was unimpressed with the home side, but said Stoke deserved to go home with a point.
"I was disappointed with Liverpool on Saturday," he added.
"The only good thing to come out of it was that Stoke never looked like scoring in a month of Sundays. As a defensive unit they were a different class.
"But Stoke, defensively, were unbelievable. They went there for a draw and they got a draw - and they got it very, very easy bar one chance for Kuyt.
"I don't care if you're Man United or Man City, to go to Anfield and keep Liverpool down to one clear-cut chance is very surprising."