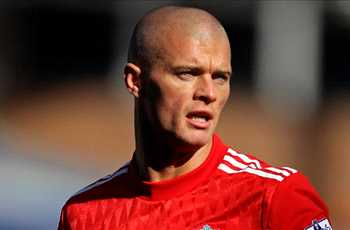 Liverpool defender Paul Konchesky has admitted that he has struggled to settle into life on Merseyside and found it tough handling the expectations that come with playing for the Anfield club.
The full-back, who was signed by Roy Hodgson in July, accepts that he needs to lift the level of his performances to repay the faith shown in him by his manager.
"It's taken me a while [to settle in], and I got injured early on so I'm just getting back to playing at full fitness now," Konchesky told Liverpool's official website.
"I'm getting used to the atmosphere and the people surrounding the team.
"There is a lot of pressure here but it's a good pressure. The fans want you to be in the top four because that's where Liverpool belongs.
"I've got to up my game. Where I've played before has not been as high a standard as Liverpool, but this is a good pressure."
And Konchesky acknowledged that he was at fault for Tottenham's winning goal in their Premier League clash on Sunday as Aaron Lennon raced through to hand Spurs a 2-1 win.
"Straight after I knew that I'd have to hold my hands up, but we also had chances to win the game," he continued.
"That's part of football and we've got to try and take the positives out of the game.
"I was gutted [with the winner]. Being the last minute as well, it didn't give us any time to get back into the game.
"But that's life, we've got to put it behind us, and I've got to put it behind myself for the next game."
The former Fulham defender has also looked to reassure fans by insisting the Reds are slowly starting to adapt to Hodgson's tactics and revealed he is expecting things to improve soon.
"I can see signs that we're starting to play in the style he [Hodgson] wants," he added.
"The more we work on it on the training ground, the more the players get used to what the manager wants.
"We're taking it into games. The performances have been of a much higher standard in the last two games.
"It's about organization and a lot of hard work. Players filling in for each other when someone's out of position.
"I think the team is becoming organized in the system."